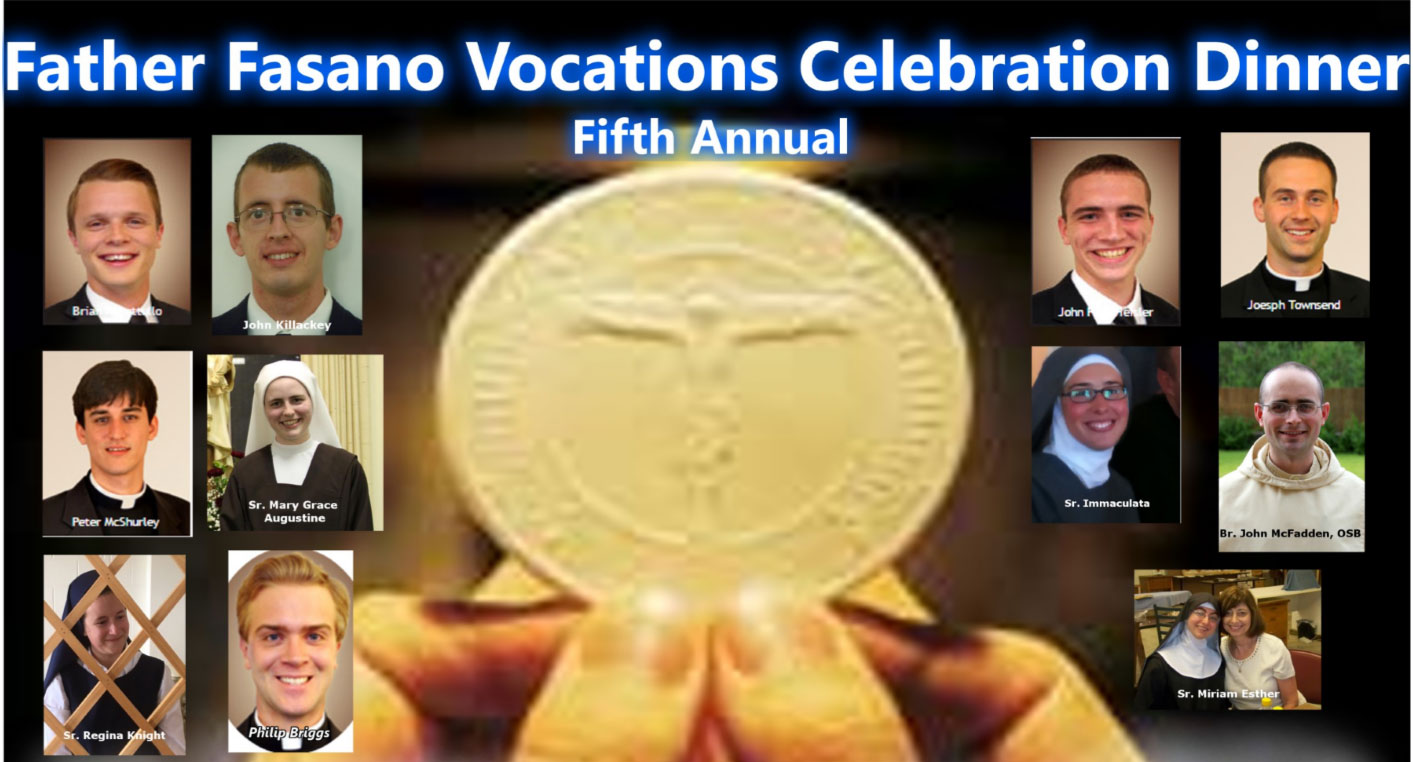 NOTE: TICKET SALES ARE NO LONGER AVAILABLE, BUT FEEL FREE TO DONATE TO VOCATIONS BY CLICKING ON THE LINK AT THE BOTTOM.



The Knights of Columbus John Carrell Jenkins Council #7771 in Front Royal invites you to be our guest at our annual "Father Fasano Vocations Celebration Dinner," being held this year at the Front Royal Fire and Rescue Department (221 North Commerce Avenue, Front Royal, VA 22630) at 6pm on Saturday, June 3, 2017.
The evening will consist of a social hour, dinner, brief remarks by the seminarians and young women in attendance, a guest speaker talk, and evening prayers. Tickets cost $50 a person, but we are offering an early action discount to get tickets for $40 a person if purchased before May 15, 2017. Please purchase your ticket(s) here on our website by clicking the "PayPal" link or by mailing a check to our council at Knights of Columbus John Carrell Jenkins Council 7771 P.O. Box 375, Front Royal, VA 22630. Tickets will also be sold after weekend Masses at St. Johns.
The purpose of the dinner is to celebrate the "home grown" young men and women from our parish studying for the priesthood and religious life and to increase awareness within the St. John the Baptist Church community of the importance of vocations.
We define a "home grown" vocation one of three ways: 1) The young man or woman in formation grew up in the parish; 2) the family of the young man or woman moved to Front Royal after their son or daughter entered the seminary/convent; or 3) the young man or woman attended Christendom College and then remained in the Front Royal community after graduation before entering the seminary/convent. The seven young men who meet this criteria are:
Brian Accettullo,
John Paul Heisler
John Killackey
John McFadden
Peter McShurley
Joe Townsend
Philip Briggs
the four young women are
Christina Heisler
Lorraine Podlinsek
Brittany Scheidler
Regina Knight
Please pass information about this event onto your family members and friends.
The Knights are excited about making the dinner a truly enjoyable dinner for the parish and our seminarians and young women in formation. Please contact either myself (michaelbugin@yahoo.com) (248-797-1228) or Jon Anderson (jon@r3mktg.org) if you have any questions.
In Christ,
Michael Bugin
Chairman, Vocations Celebration Dinner Committee
Knights of Columbus John Carrell Jenkins Council #7771
---
Save
Save
Save
Save
Save