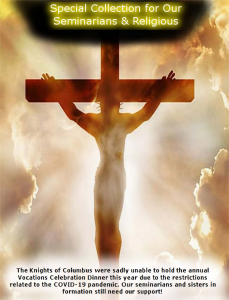 Our Council will be promoting and accepting donations to assist the parish's young men and women pursuing religious
vocations. Your assistance is needed to:
pass out flyers and envelopes before Masses on March 13-14
answer questions and receive donations after Masses on March 20-21
Sign up to help or contact Leo Carling (540-631-7555, LeoCarling4@gmail.com) to volunteer.  It will only take a few minutes of your time after the Mass you attend.
If you have any questions about the Second Collection, please contact George Kopcsak (540-622-3308, gkopcsak@gmail.com).